Welcome to Sulson Overseas
True Indian Basmati Rice Manufacturer & Exporter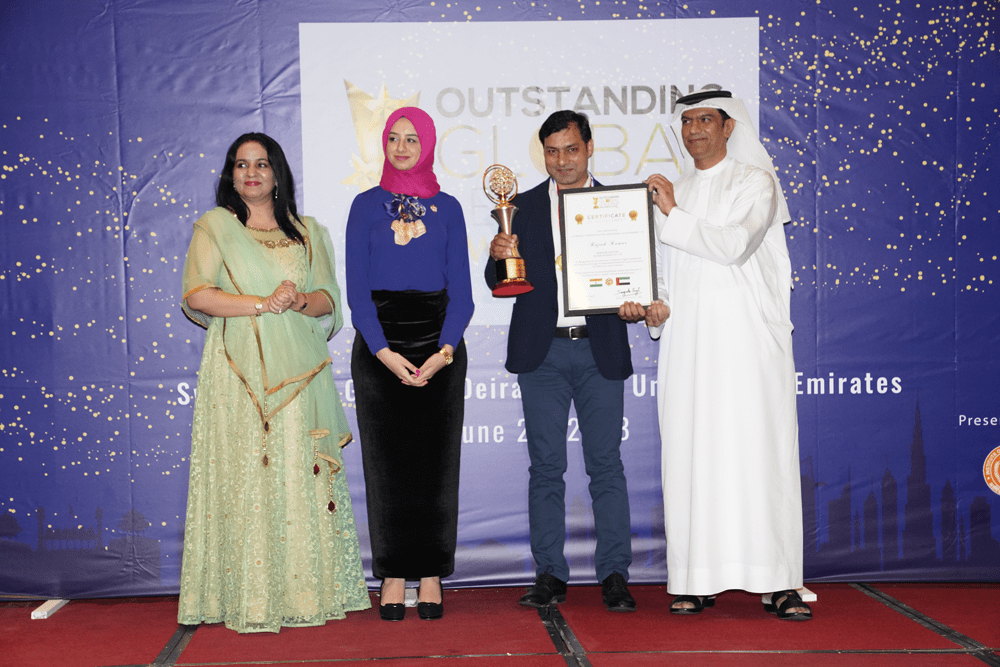 From a humble Beginning to a Leading Indian Basmati Rice Exporter
The story begins with a humble start in the year 2008 with the establishment of Sulson Overseas Private Limited in the able guidance of Mr. Rajesh Kumar as Managing Director. The unique approach and out of the box ideas of Sulson Overseas Team, and the confidence of their buyers in their abilities soon brought them in the leadership position. Today the company is one of the leading Basmati rice processors and exporters from India. Sulson's brands of basmati rice – Banno & Samaa are synonymous with supreme quality basmati rice of Indian. We deal with all the varieties of Basmati Rice – Traditional White Basmati Rice, Brown Basmati Rice, 1121 Basmati Rice (also called Pusa 1121), Parboiled Sella Basmati Rice, 1121 Golden Sella Basmati Rice, and so on.
Banno Basmati Rice & Samaa Basmati Rice are the two leading brands owned by Sulson Overseas and are available in more than 50 countries around the world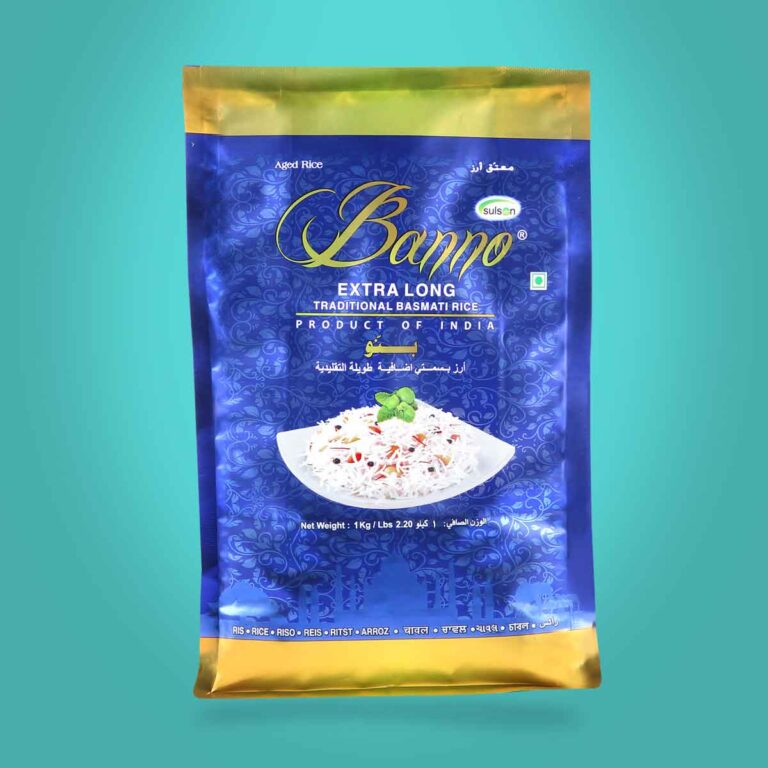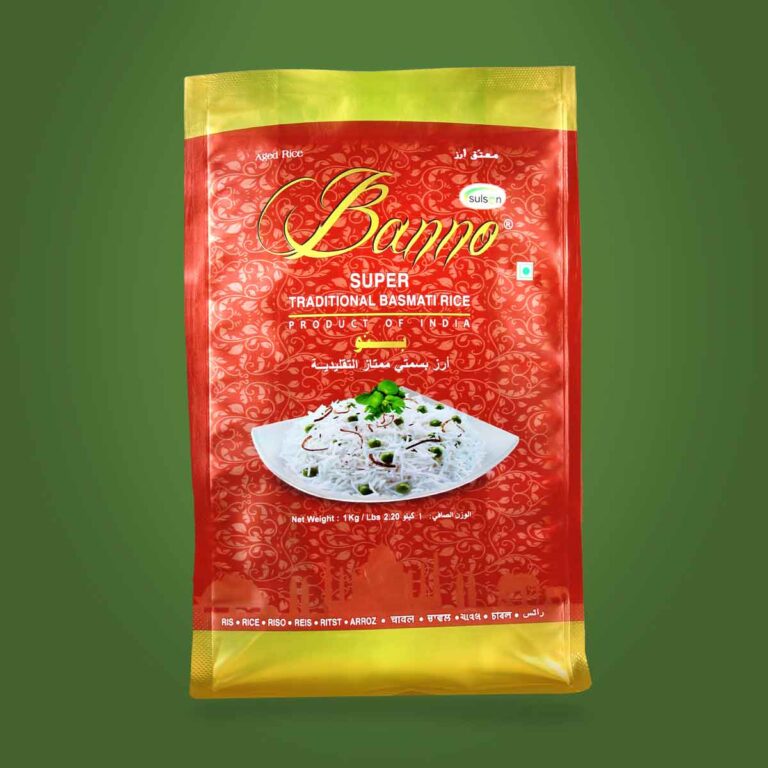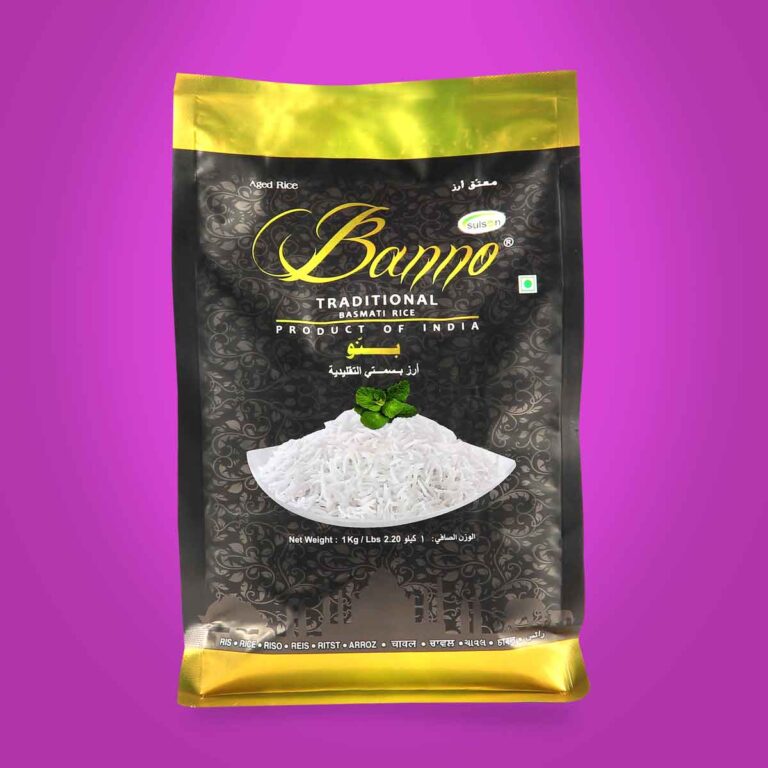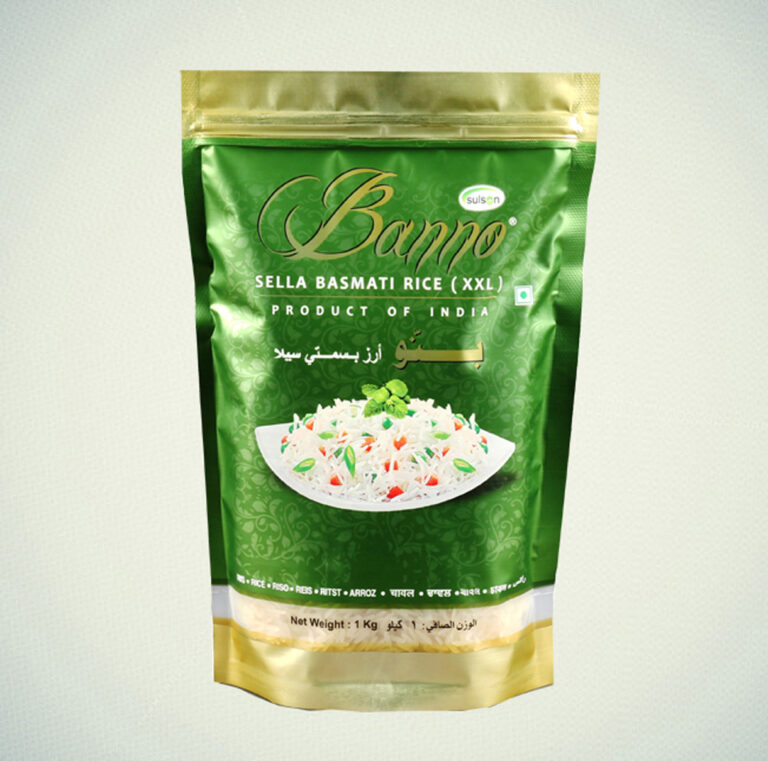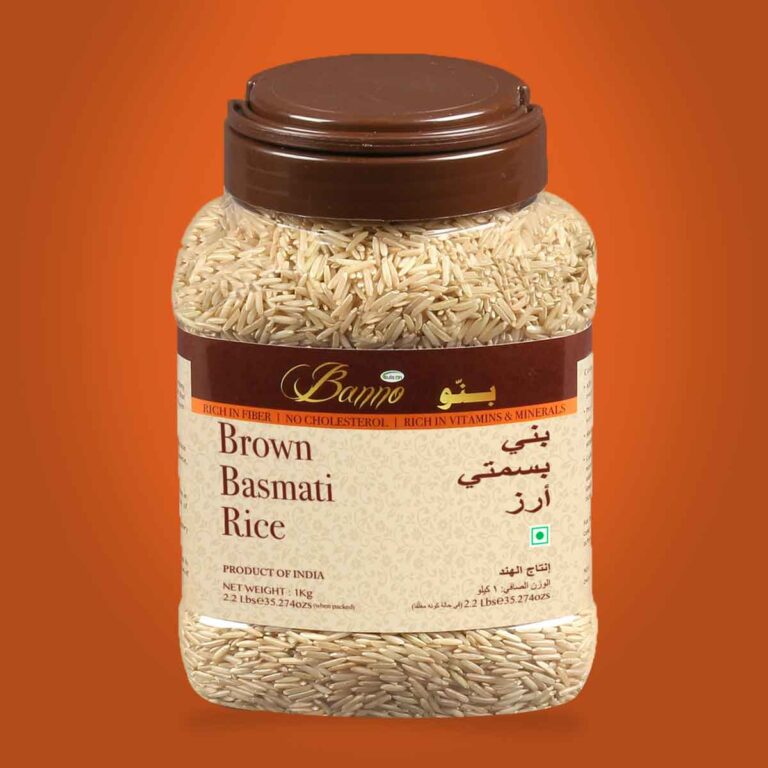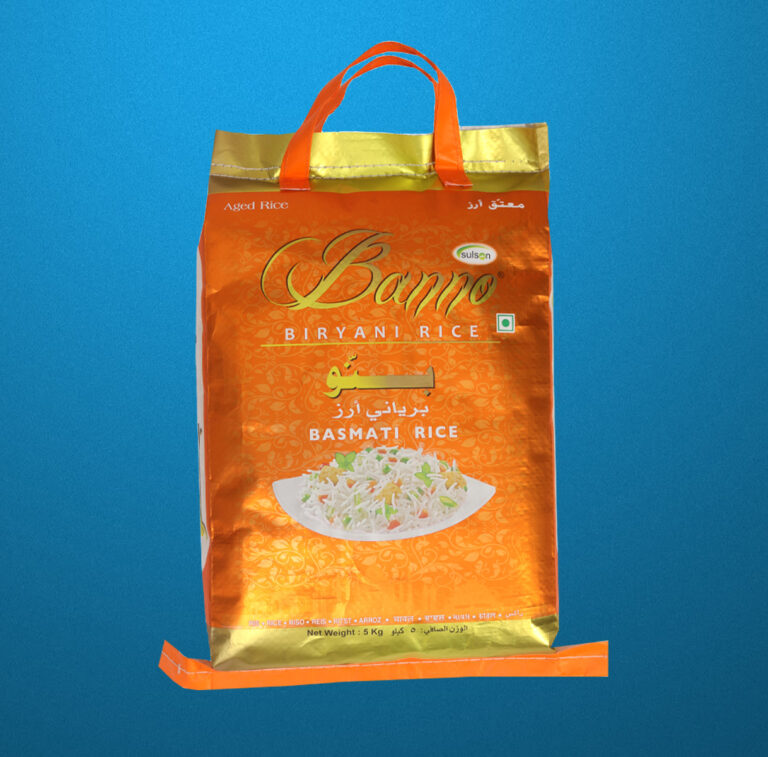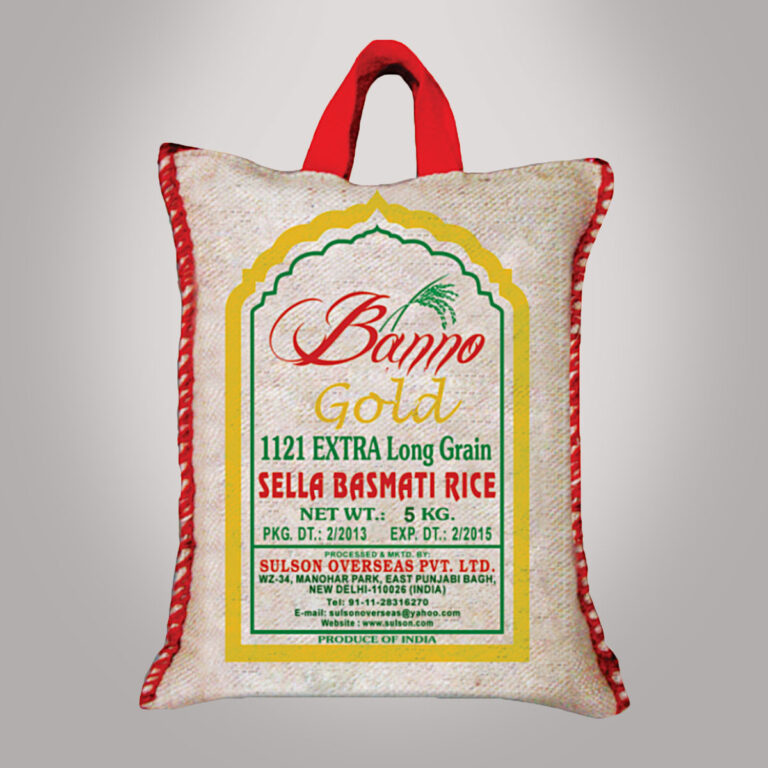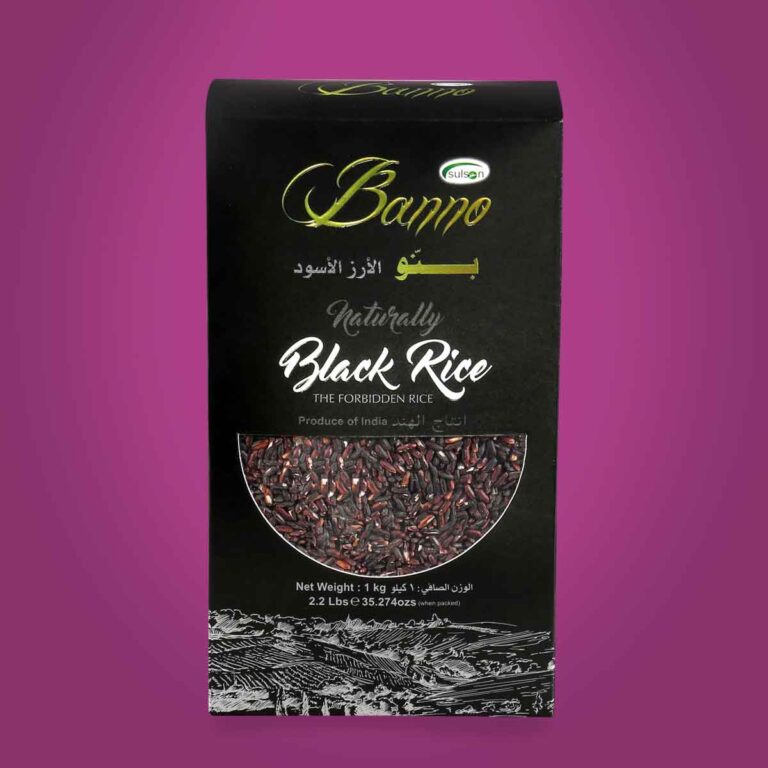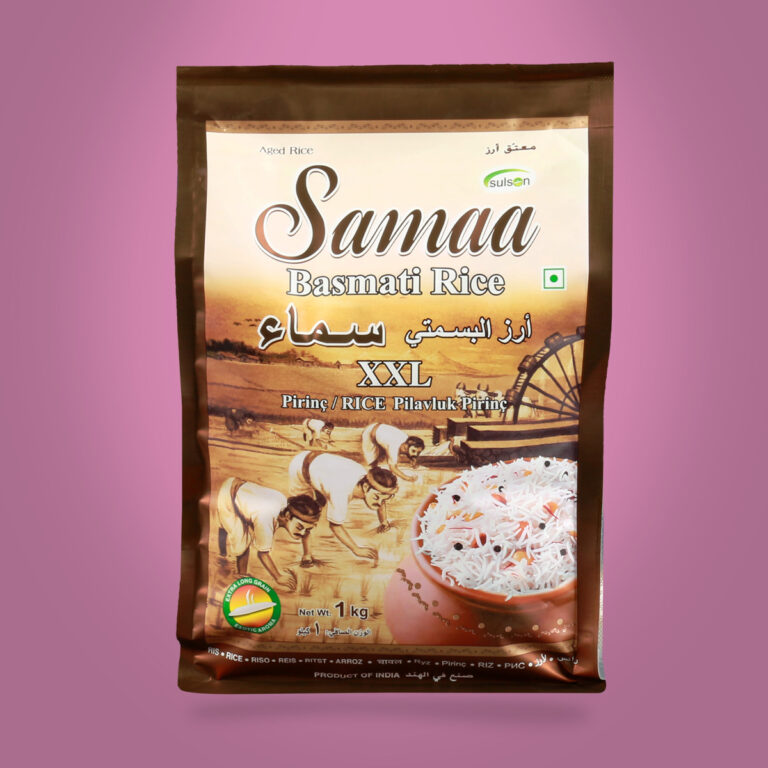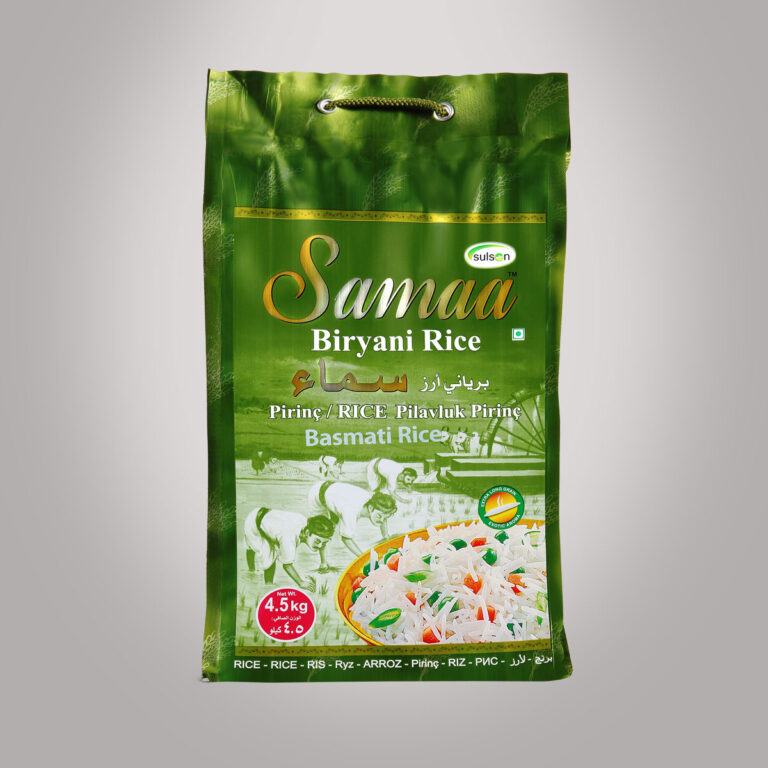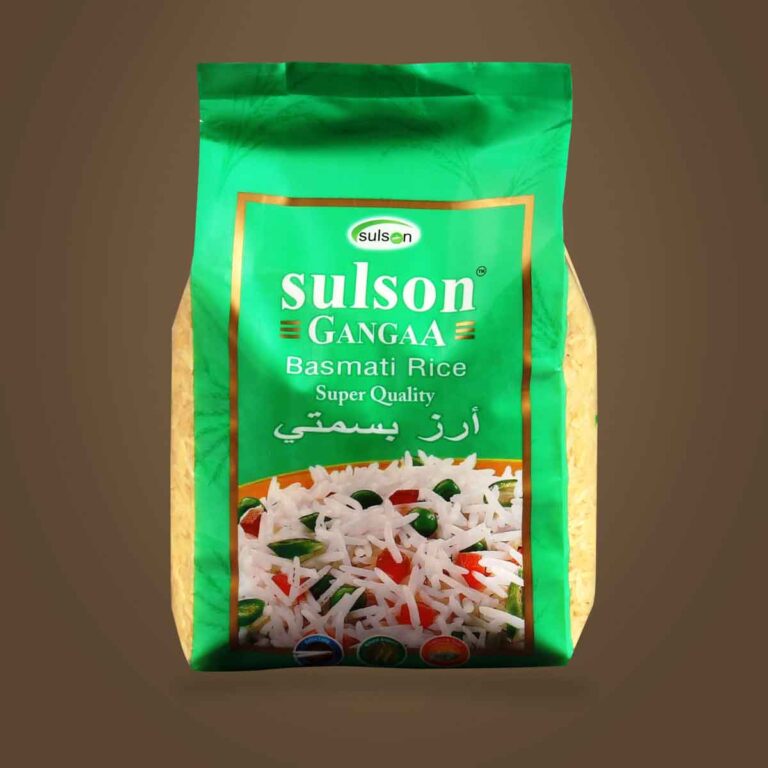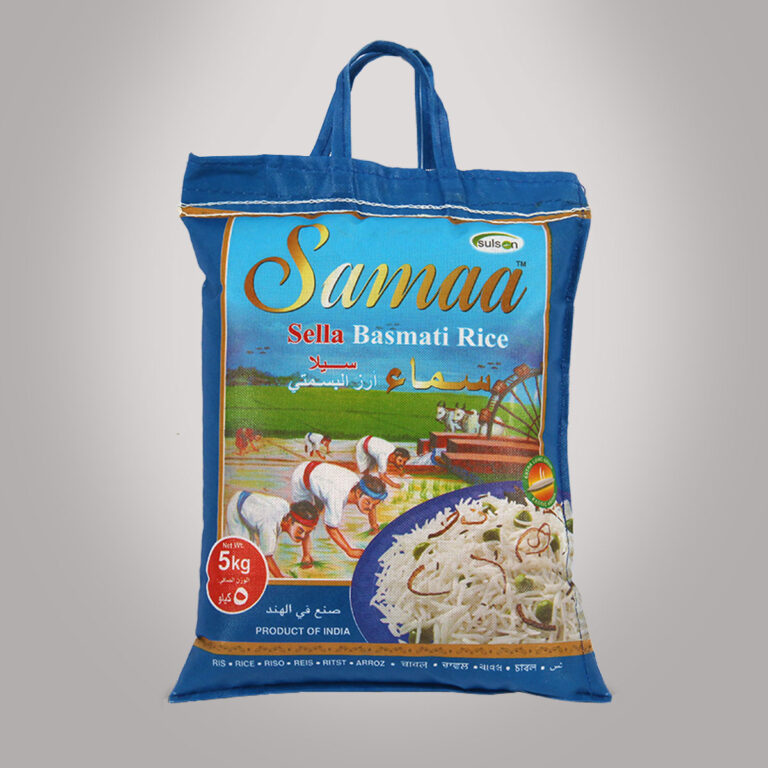 India is famous for many reasons and aromatic basmati rice is one of them. Basmati is the world's most popular rice because of its fragrance and sweet taste. Truly indigenous, the long grain Indian basmati rice is a valuable ingredient for an irresistible treat for all types of palates. Basmati rice has been reported in India since the 19th century. The word basmati means, bas means "aroma" and mati means "full of", so Basmati means, "full of aroma"
MAKING OF THE EXCEPTIONAL BASMATI RICE OF INDIA
Sulson Brands of basmati rice are grown & nurtured in the most fertile fields of Punjab & Haryana that are irrigated with snow fed water from the Himalayas. We source the supreme quality paddy for its exquisite aroma, delicious taste & delightful appearance and process each batch of basmati rice in old traditional methods but with modern equipment to keep its flavour, aroma and extraordinary qualities intact. That's why our Basmati Rice is appreciated and preferred by food connoisseurs globally. 
Certifications & Compliances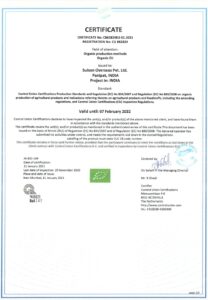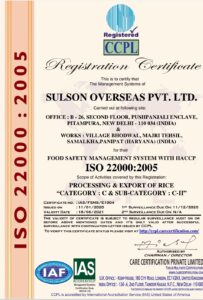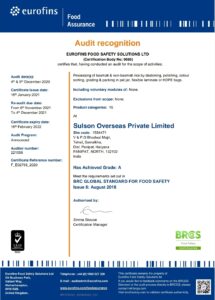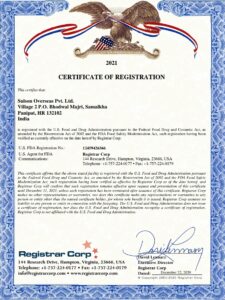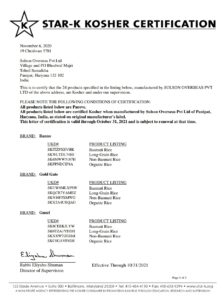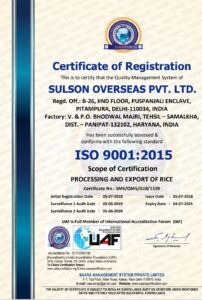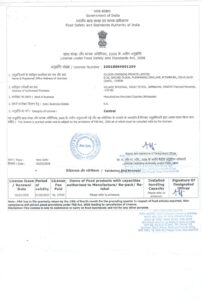 Sulson Overseas Infrastructure
The state-of-the-art modern manufacturing unit of Sulson Overseas is located in the same region of Haryana which is the heart of finest Basmati rice cultivation. The plant is certified for ISO 9001-2015, ISO 22000-2005, HACCP, GMP, and Halal. With advanced processing techniques, stringent quality control, packaging & warehousing units, we are efficiently catering to the ever growing demands of our clients from all across the world. Our well equipped storage facility allows us to stock our raw as well as finished products under hygienic conditions that helps us in the timely delivery of consignments. We offer multiple packaging options like 1 Kg, 2 Kg, 5 Kg, 10 Kg, 15 Kg, 20 Kg & 40 Kg which can be further customized in any size as per client's requirement. 

We at Sulson Overseas Pvt. Ltd. envisioned to be acknowledged as the global leader in traditional, natural and most authentic Basmati Rice Exporter from India. We aim to achieve total customer satisfaction by providing supreme quality products with delivery commitments, at most competitive pricing.
What people are saying about Sulson Overseas
At first, I wasn't sure if there would be any difference between any two Basmati Rice brands, when both originate from India, but once I started using Banno Basmati Rice I somehow found not only visible differences in cooking but also differences in the taste of the rice. Since that day when I bought the first pack of Banno Basmati Rice around 7 years back and till today, for my home Basmati rice means Banno Basmati Rice.
Being a Mughlai cuisine restaurant, rice is one of the most important staple in our daily preparations that we serve. Our experience with Banno Basmati Rice is something very precious as I feel this rice is giving an extra zing to our variety of Biryanis that we serve daily. I strongly recommend to my fellow restaurateurs, if this Brand is available in your country, just try once to believe it.
Interested in Distributorship...??
Our products are available for our consumers through a vast network of our Dealers and Distributors. Welcome to be the part of our network.